Real-life, million-dollar 'dollhouses' for sale
Three very unique houses in Australia that look like a 'doll's house' have hit the market.
With their colonial-style facade, striking front door, angular roof, comfortable rooms and warm color palette, you'd be wrong to think these mansions are just a dream.
Brimming with charm and character, Colonial properties quickly became the norm in architecture after they were introduced by European settlers to the United States in the 17th, 18th, and 19th centuries.
Colonial houses have their own trademark style. Think of a box-like square shape, occupying two or more levels, with a gable roof.
The facade is typically wooden, adding to its charm, or earthier with brick or stone.
8 Hotham Ave, Mount Macedon, VIC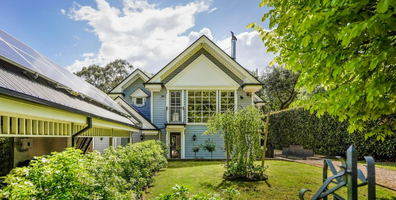 READ MORE: Australia's little blue house 'on stilts' sells for $95,000
This four-bedroom, two-bathroom home has a guide price of between $1.85 million and $1.95 million and is described as a "Hamptons-style haven" on the listing.
Advertised by Tom May and Leanne Pearman of Jellis Craig Woodend, the 8 Hotham Avenue home offers instant curb appeal with its blue and white exterior, latticework windows and front hedge.
Located in a quiet cul-de-sac, the property offers comfortable rooms with polished wood floors, a towering staircase, a loft, and a two-story studio that can be converted into a home office or gym.
There is also a manicured courtyard and gardens for entertaining.
74 Magnetic Drive, Mount Tamborine, Queensland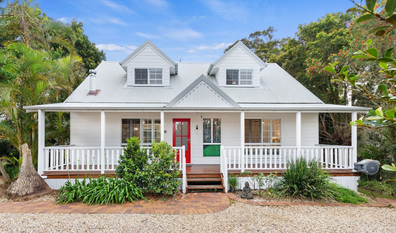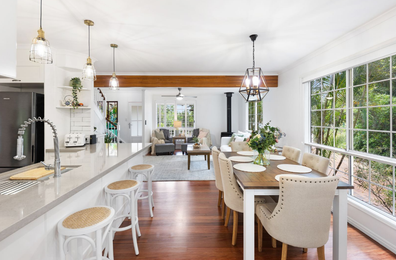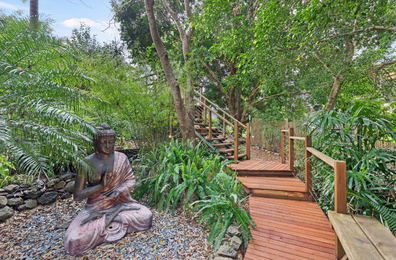 LEARN MORE:Rare chance to land $15m in luxury Queensland tree resort
Listed by Michael Shutte and Emma Hawker of Ray White Rural Tamborine Mountain, this idyllic abode at 74 Magnetic Drive is listed for over a million dollars.
The median home price for Tamborine Mountain is $939,500, according to the latest data from Domain.
Described as a "magical mountain cabin" on the listing, the remodeled home is inviting with its front door in a bold red hue, balcony, and white-fenced porch.
Interior design elements worth mentioning are the "country style kitchen" with its Oliveri sink, stone worktops and pendant lights, and the lattice windows in the living room.
There is also plenty of space for entertaining with terraces that offer views of lush vegetation and walkways that lead to a gazebo.
41 Oleander Drive, Yungaburra, Queensland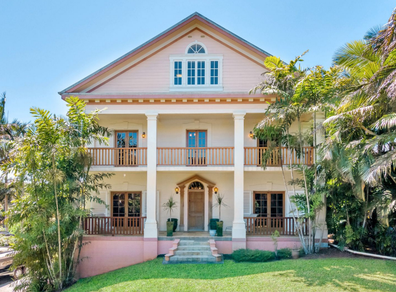 This three-bedroom, three-bathroom property is grand in its facade with its pale pink and white hues, striking front door and spacious front yard.
Listed by Ray Murphy and David Murphy of REMAX Cairns, the four-level home at 41 Oleander Drive is listed for over $1.05 million.
Located in Yungaburra, a rural town in the plateau region, the house is nestled in lush greenery and offers a view of Lake Tinaroo.
Interiors take on a bold aesthetic with red cedar woodwork, coffered ceilings, checkerboard tiles in the bathroom, chandeliers, forest green walls and leather sofas.