Notice issued to raze houses along Nag River and nullahs | Nagpur News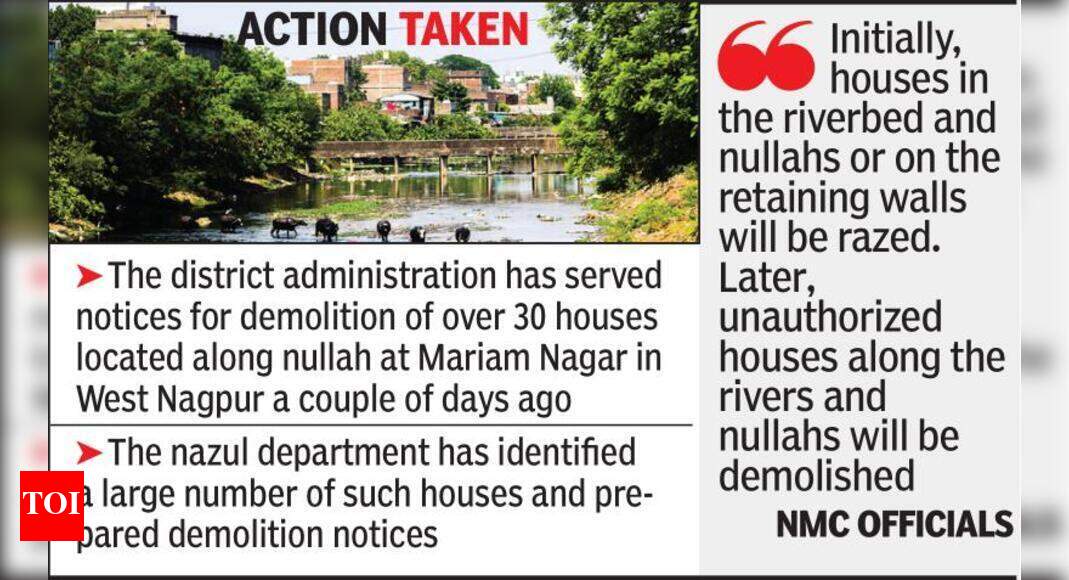 Nagpur: In a major development that may cause political upheaval, the Nagpur Municipal Corporation (NMC) and the District Administration have, citing orders from the Nagpur Bench of the Bombay High Court, begun serving demolition notices on citizens residing in houses located on or along the Nagpur River. , its tributaries and nullahs flowing into it.
Activists alleged that the action was taken only against slum dwellers and not against prominent business establishments.
The Nazul department of the district administration served demolition notices for more than 30 houses located along nullah in Mariam Nagar in western Nagpur a few days ago. These houses have been on nazul land for many years. The owners were ordered to demolish the houses themselves within a week of receiving the notices. The ministry warned against a demolition on its side followed by a recovery of the expenses after this period.
The Nazul department has already identified many of these houses and prepared demolition notices, which should be issued soon.
NMC officials said: "We served notices on many people and a few houses were demolished a few days ago. At first, the houses that were built in the river bed and the nullahs or on the retaining walls will be demolished. Subsequently, unauthorized houses located along the rivers and nullahs will be demolished. »
"It is very important for the execution of the Nag River pollution reduction and beautification projects and to prevent pollution of the Kanhan, Wainganga and Gosikhurd Dam rivers," they said.
Activist Joseph George has alleged that the NMC, Nagpur Improvement Trust (NIT) and the district administration are not taking similar action against business establishments. "Two restaurants and a series of commercial establishments are located directly on the tributary (large nullah flowing from Mor Bhavan to Sangam Chawl) of the Nag River. None of them have been put on notice," he said.
"Similarly, walls and parts of three trading centers in Lendra (Ramdaspeth) and Sitabuldi are located on the Nag River retaining wall. No action has been taken against these establishments. Much of the Nag River has been blocked by NIT at Corporation Colony and no action has been taken despite repeated complaints," George said.
"Measurements are being taken on houses located some distance from the nullahs, but nothing is being done on structures that have arisen encroaching on the rivers themselves. The law must be equal to all. Only unfortunate slum dwellers are targeted and influential people are not affected," he alleged.
In suo motu PIL, the HC had on January 19 ordered the authorities to take immediate measures to identify slums, human settlements and constructions erected or built without authorization on the banks of the Nag River, its tributaries and all the nullahs crossing the city and eliminate them in time limited way.