Invaders fire missiles at residential houses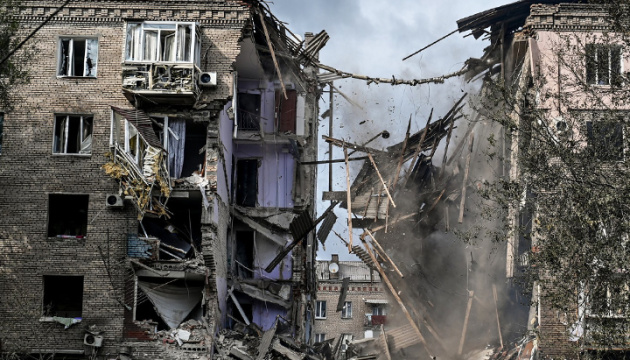 Russian invaders are using suicide missiles and drones to attack Ukrainian cities, terrorizing civilians. The city of Zaporizhzhia remains under continuous enemy fire.
The city is located close to the line of contact and Russian missiles can reach it in less than a minute.
The Russians deliberately target high-rise residential buildings, civilian and critical infrastructure.
On October 10, 2022, a Russian missile hit a building in downtown Zaporizhzhia, destroying one of its sections. Now it can be seen as a terrible abyss instead of once comfortable apartments.
Rescuers recovered six civilian bodies from under the rubble.
On the night of October 9, 2022, the Russian aircraft fired a dozen S-300 and Kh-22 missiles at residential areas in Zaporizhzhia. Apartment buildings, individual houses and educational establishments came under enemy fire. Russian missiles directly hit and destroyed one to seven floors in a nine-story building. The remaining two floors destroyed during the dismantling work.
A nearby 5-story building and neighboring houses were also damaged. The shock wave severely damaged balconies, windows and facades. Cars parked near the impact area caught fire. In addition, shops, offices, kindergartens, schools and other infrastructure objects were damaged in this neighborhood.
Russian troops also launched two missile strikes on the suburbs of individual houses in the Dniprovskyi district. Houses were destroyed at the intersection of streets. Some of them were completely destroyed, while others were badly damaged.
At least fourteen civilians were killed and 60 injured, including six children.
On the morning of October 6, 2022, the Russian army opened fire on downtown Zaporizhzhia, after destroying more than 50 buildings. Several individual houses and apartment buildings came under enemy fire. One to five stories were destroyed in two 5-story buildings.
Cars were damaged. Many neighboring houses ended up with blown windows, damaged facades, balconies and roofs destroyed.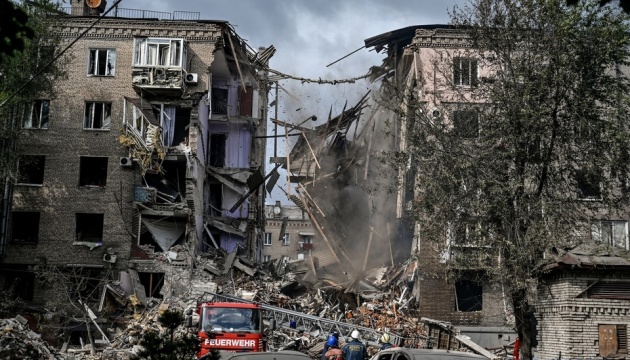 Rescuers, municipal employees and volunteers had been dismantling the rubble of two buildings for more than three days. Twenty civilian bodies were recovered from the rubble.
One of the Russian missiles hit the suburb of the single-family house, having completely destroyed two houses. Three civilians were reportedly killed.
Typically, at least 49 people had been killed in a series of Russian missile strikes on Zaporizhzhia since October 3, 2022.
A reminder that on the morning of October 10, 2022, Russia launched a massive missile attack on Ukrainian territory. Infrastructure objects were hit in eight regions and the city of Kyiv. The Russian invaders fired 84 cruise missiles and used 24 unmanned aerial vehicles. According to available data, a total of 19 people were killed and 108 injured.
Photo: Albert Koshelev, Dmytro Smolienko
mk