Houzz Reveals Top Interior Design Winners — The Latch
A peek into other people's homes provides endless inspiration for yours. You can see what furniture and household items they put together, how they used a space, and what the overall feeling is like when you look around the house, all of the information and learnings that you can then incorporate into your interior design.
And while you could spend hours scrolling through home posts or Pinterest, home improvement and design platform Houzz has made it easy, with its annual "Best Of" awards, which recognize the best of best in homes.
Ahead, Houzz.com.au Editor-in-Chief Vanessa Walker shares 10 of the most stylish homes on the Best Of 2022 list, explaining why the spaces match current trends and how you too can recreate the look of the home .
"Average bathroom spending has increased 15% over the past year, according to the latest Houzz & Home report. In the space, we can see owners with higher budgets opting for popular features that achieve hotel-like luxury.
"Searches on Houzz for a 'freestanding tub' such as this one, beautifully set in the center of this bathroom, have increased 328% in the past year. Embracing a monochromatic palette, the tile details Herringbone porcelain wall art, mosaic floor tiles and vanity, to repeating rose gold fixtures give this winning bathroom a sophisticated and lavish look.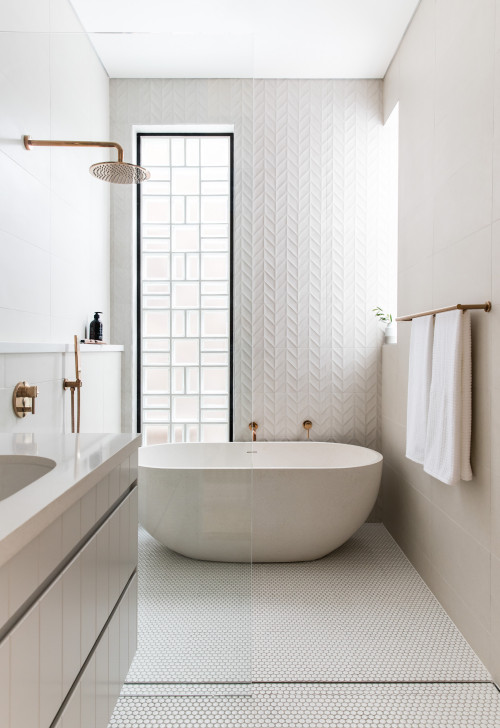 "Wine enthusiasts looking to store their favorite collections are gaining traction within the Houzz community, with searches for 'wine cellars' and 'wine room' leading searches over the year (337% and 245% respectively).
"And if there's one that deserves a toast, it's this glamorous wine cabinet that's been added to a newly built kitchen. The incorporation of a black wood veneer, marble countertop and splashback with brass glass hangers is a combination worth celebrating. In that craftsmanship, we also see an appealing nod to curves, a trend Houzz designers and architects say homeowners are increasingly asking for in their home appliances.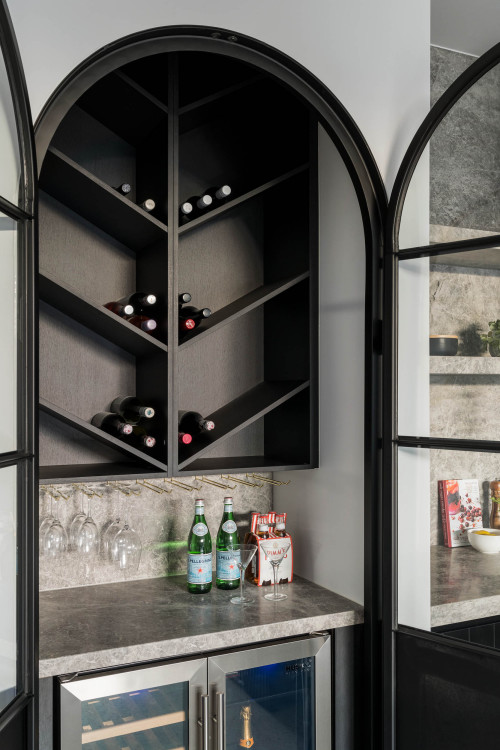 "Over the past few years, we have seen the laundry room, once a purely utilitarian space, transform brilliantly. For an extra touch of luxury, the marble-look herringbone "laundry tiles" featured in this winning design are having a moment, with searches on Houzz up 203% from 2020.
"The white joinery blends beautifully with the concrete worktop, matte black fittings and reclaimed wood shelves. To top it off, the natural light that filters through the glass door makes the space bright and open.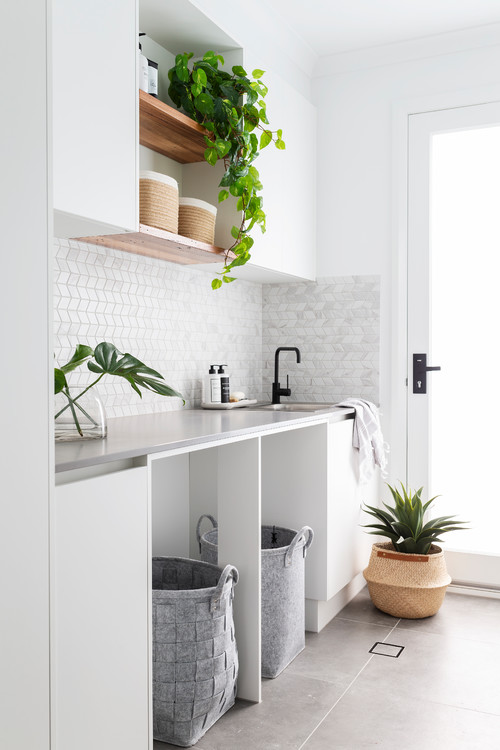 "There's something to be said for a moody laundry space, and we've noticed a growing number of 'dark' inspired spaces appearing in homes on Houzz, with searches up 294% more than the previous year.
"In this popular powder room, some may consider a contrast of materials to be the main aesthetic, however, it is the VJ panels, lightly grained vanity and grainy wood that we consider a masterpiece that binds the look extremely well."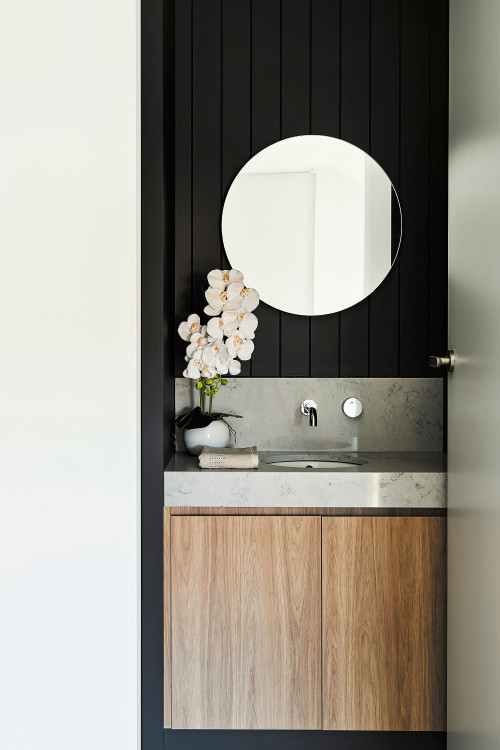 "When it comes to sprucing up the kitchen, changing the layout is a priority for more than half of homeowners according to the latest Houzz & Home report. Houzz searches for an 'open kitchen' like this turned up proven popular among the Houzz community, with the search term increasing 254% over last year.
"A spacious marble island paired with a wooden breakfast bench creates a multi-functional space that is used for cooking, providing entertainment and working space. Plus, what's not to love about a kitchen that takes advantage of its beachfront location with endless views of the horizon.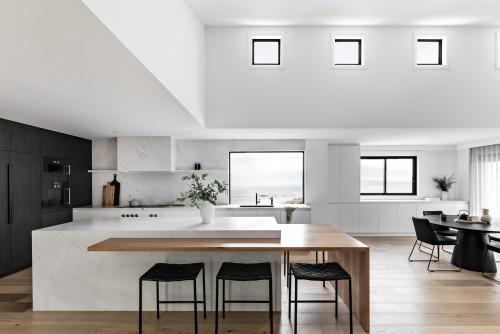 "Outdoor projects are on the rise across Australia, in particular we can see users wanting to undertake improvements around their entry areas, with 'front door' inspired searches seeing an increase in 666% year over year.
"This Victorian conservatory is true to tradition, standing tall with period trim and a garden bed of 'yuccas', which is one of the most searched plant varieties on Houzz, with searches rising by 1651% over the previous year.It's a scene that's nothing short of charming and clearly explains why it's earned a place among the Houzz community's favorites.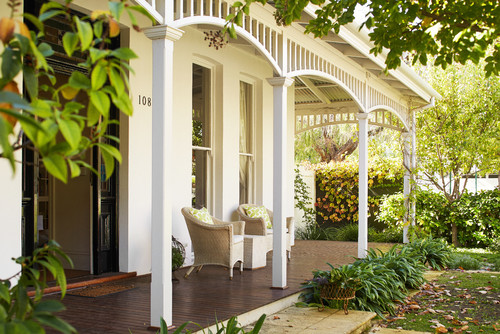 "The Australian Hamptons palette is very popular on Houzz. It's a modern take on the traditional style, with an understated combination of serene neutrals, cool whites, and light blue-based grays that appear in harmony in the soft, textured choices of cushions and throws in this master bedroom.
"Incorporating perfect 'floor-to-ceiling windows' is also appearing more frequently in homes on Houzz, with searches in 2021 up 296% from the previous year. They are a feature used to maximize the light entering the home. room, while also serving as a retreat to enjoy and wonder.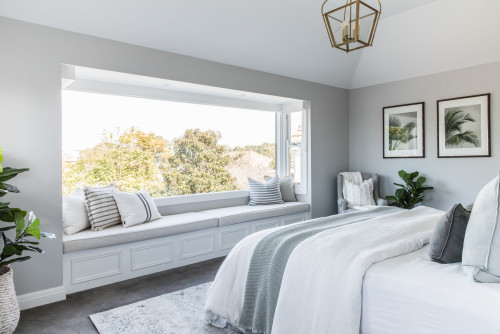 "Working from home has become the new norm for many Australians, and while not everyone has the space to create a dedicated home office, when you hire the right professional to help, designs like this one on Houzz illustrates what's possible, even in the toughest of spots.
"It's hard not to be drawn to the depth and dance of color in the wallpaper, which pairs beautifully with the custom built-in desk and shelving that minimizes their profile."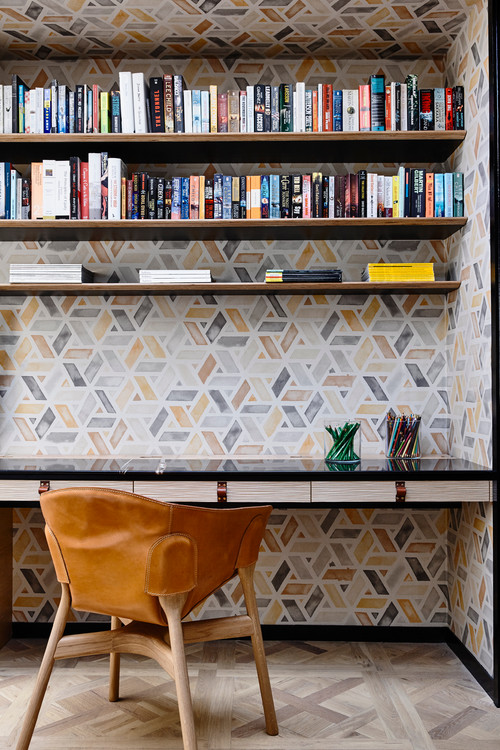 "No matter where you live, searches for interiors and exteriors inspired by 'beach houses' are increasing on Houzz and are up 125% over last year. And this winning living room design evokes the easy feeling and carefree to be near the coast.
"Vinyl plank flooring seamlessly connects the open-plan living areas inside, while recessed sliding doors allow the room to spill out onto the 'indoor-outdoor terrace,' a popular addition for which we are seeing an increase in searches and which reinforces the feeling of cohesion between the territories (up 191% over one year)."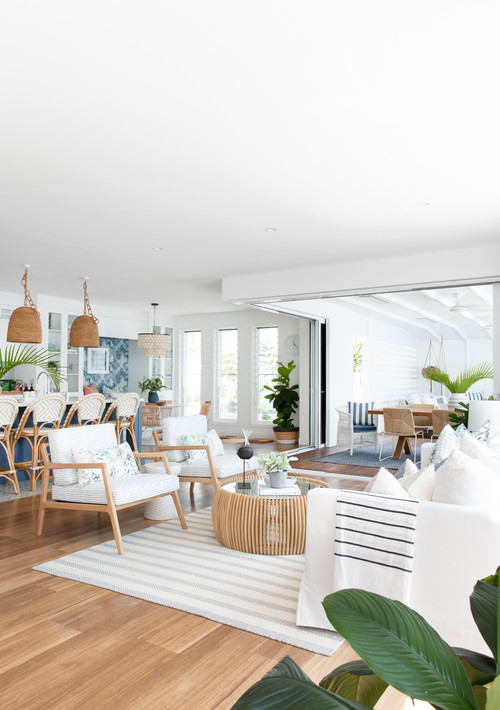 "Backyards are another area where owners are exploring the potential of a resort. Admittedly, with good reason, as they were anticipating the warmer months, we saw searches for landscaping ideas – especially for "gazebos" and "pools" – increase on Houzz by 303% and 226% respectively. , compared to last year. The white cabana and lounge chairs alongside emerald jade hues make this outdoor space a daily escape.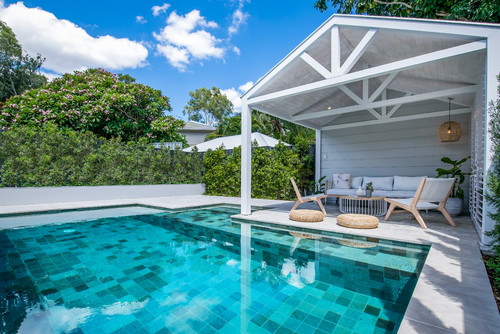 The full list of Best of Houzz 2022 is here.
Read more stories from The Latch and subscribe to our email newsletter.