11 Malibu Beach Houses You Should Rent Now
Immortalized in movies and songs, Malibu Beach is an American gem, a place deeply ingrained in popular consciousness as the epitome of West Coast lifestyle. Although known for its infuriating hilltop mansions, Malibu isn't just for the rich and famous. It's full of waterfront rentals that will leave an indelible mark on your mind as the Pacific leaves on the rocky coast.
Ride the Pacific Coast Highway (PCH) and you'll see a myriad of beautiful spots and architectural marvels. With hiking trails above, surfers below, and dozens of amazing restaurants and shops in between, Malibu's charms aren't exactly hidden. With Los Angeles' museums and lesser-known attractions all within driving distance, Malibu is a great place to experience Southern California's wonderful attractions while maintaining a base free from urban sprawl.
Warm and sunny all year round, Malibu is an enchanting place to spend your next vacation. To help you on your way, here's a list of 11 Malibu beach house vacation rentals, each on the water.
Cozy Home East of Malibu
Rent now$850/mo per night
A boon for couples looking to explore Los Angeles from the comfort of a Malibu retreat, this oceanfront home is ready for new tenants. A short drive from Santa Monica and many other Los Angeles attractions, it still offers the stunning mountain and ocean views that make Malibu so appealing. A king bedroom rises above the waves. Walk past the fireplace, open the sliding doors, step out onto the balcony and overlook the water as if you were sailing on one of the huge ships that regularly arrive in San Pedro Port. The house has a full kitchen, cozy living areas and a second bedroom equipped with a bunk bed.
Bedrooms: 2
Bathrooms : 2
Sleeping: 4
Carbon Beach Bungalow
Rent now$899/avg per night
The lagoon, pier, and commercial heart of Malibu are all within reach when you stay at this perfectly located bungalow on Carbon Beach. World-class restaurants, beautiful sunsets and memorable pier rides will be the cornerstones of your vacation while staying here. A humble home compared to the mansions in the hills above, this bungalow enjoys the same incredible location as the larger offerings. It has a beachfront balcony, a king bedroom and a double bedroom in the living room. There are several bungalows like this that can be rented together, so feel free to bring a large group.
Bedrooms: 1
Bathrooms : 1
Sleeping: 4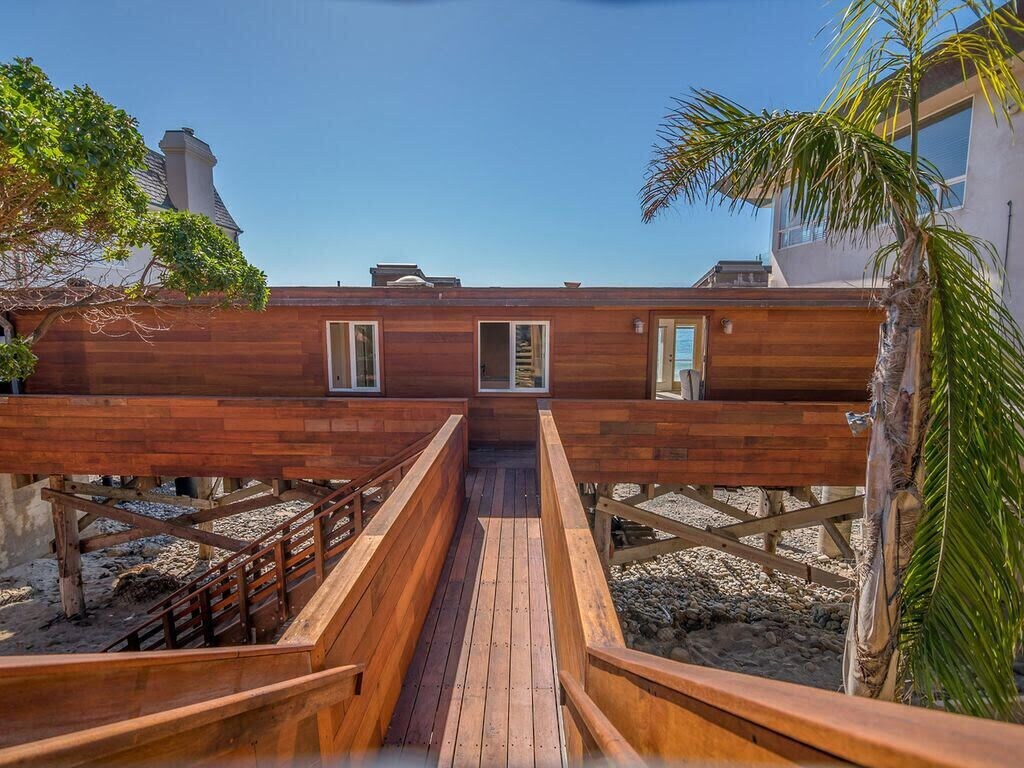 wooden wonder on the beach
Rent now$899/avg per night
A masterpiece of carpentry, this beautiful home on County Line Beach is a wood lover's dream. Approaching the house from the wooden walkway, the ocean looms on the horizon and this magnificent example of the bounty of the forest instills a deep-rooted feeling. In addition to oak French doors, the house uses other materials. The shower is a grand marble affair, perfectly matched by the pristine porcelain sink. The kitchen is brand new and the ocean view is timeless. It is an ideal retreat for couples of all interests.
Bedrooms: 1
Bathrooms : 1
Sleeping: 6
Romantic Retreat in Livingston Beach
Rent now$1,091/avg per night
A palace built for two, this modern home in Far West Malibu is the perfect place for couples to bask in the unforgettable glow of the Californian sun. Locals and guests of the area will enjoy a private beach with crystal clear waters frequented by whales. The home is spacious with all sorts of luxurious touches like granite countertops and a fireplace surrounded by excellent seating areas. Opposite the beach, trails wind through the canyons of the Santa Monica Mountains.
Bedrooms: 1
Bathrooms : 1
Sleeping: 2
Seaswept house at La Costa beach
Rent now$1,134/avg per night
With beautiful blond wood light fixtures and ocean views from every room, this two-bedroom beachfront home is perfect for one or more couples. It has a nice back patio with lounge chairs and a table for outdoor dining. Whether you go by the beach or by the road, duke, a fabulous restaurant that doubles as a sanctuary for surfing pioneer Duke Kahanamoku, is just steps away. The house has two double bedrooms, a full kitchen and easy access to local hiking trails.
Bedrooms: 2
Bathrooms : 3
Sleeping: 4
Palace On The PCH
Rent now$2,250/avg per night
A few miles west of Pacific Palisades, this huge house on the PCH nevertheless feels a world away from the hustle and bustle of Los Angeles. With three floors and five bedrooms, it can comfortably accommodate large groups of travelers. Last of a short line of houses, guests can enjoy access to a particularly extensive private beach. Savor drinks stirred by the ocean breeze from the upper balconies or dine by the water on the lowest terrace. With plenty of cozy indoor and outdoor space, you might find it hard to get to all the local restaurants and attractions.
Bedrooms: 5
Bathrooms : 5
Sleeping: ten
Cape Cod Home on Carbon Beach
Rent now$2,371/avg per night
Despite the thousands of miles separating this New England-style beach house from the land that inspired his style, he is very much at home on the California coast. Bright, airy and open, the ocean positively seeps through the walls. It has a spacious terrace, a windswept balcony and a cozy patio with a hot tub and lots of plants. Up to eight people can enjoy the home's open-plan living area and sleep comfortably in its four bedrooms. Pet owners will be happy to know that dogs are welcome.
Bedrooms: 4
Bathrooms : 4
Sleeping: 8
The Surfrider Villa
Rent now$2,433/avg per night
Another incredible property on Malibu Road, The Surfrider Villa is a contemporary California home that embodies the appeal of the beach towns of Los Angeles. You can see the water through the many large windows in the house or step out onto the balcony to hear its roar. The villa boasts modern furnishings, state-of-the-art appliances and an abundance of pleasing design features. There is one king bedroom (with bathroom and fireplace) and two queen bedrooms. The pier and its culinary treasures, such as the famous Nobu restaurant, are within walking distance.
Bedrooms: 3
Bathrooms : 3
Sleeping: 6
Minimalist Home in Broad Beach
Rent now$2,728/avg per night
With smart glass doors, immaculate metal features, and exquisitely crafted wood elements, this oceanfront home is a modern marvel made with the finest materials. It was the last project of Pierre Koenig, a renowned leader of the California Modernist style. A stay in this house therefore not only offers a comfortable experience, but also a chance for aesthetic education. Even just walking on the beach is a unique experience; a motorized drawbridge lowers the steps to take you to the water. The house has a swimming pool, a home cinema and four incredible bedrooms.
Bedrooms: 4
Bathrooms : 5
Sleeping: ten
Malibu Road Wonder
Rent now$3,166/avg per night
Secluded from the hubbub and noise of PCH, this stunning home features elegant furnishings, fresh interiors, great amenities and 75 feet of waterfront. Recently renovated, it promises a relaxing and luxurious vacation. Guests enter through a leafy courtyard with a grill, pool, and plenty of seating. Things will only get better from there as you explore the splendid rooms with stunning ocean views. Just steps from Pepperdine University, it's a great base for anyone visiting the university. The house has a master bedroom and two guest bedrooms, one with two twin beds, the other a pair of doubles. A guest house can also be rented to accommodate larger groups.
Bedrooms: 3
Bathrooms : 3
Sleeping: 16
1 acre estate in West Malibu
Rent now$4,908/avg per night
Built of stone and situated on an idyllic oceanfront acre, this enviable property in West Malibu is sure to impress anyone lucky enough to walk through its doors. From the huge 3,000 square foot rooftop terrace (with infinity pool) to the grassy lawn that adjoins the sand, there's a lot to love. It has five bedrooms (including two master suites), a blockbuster-worthy home theater and direct access to a sandy beach. On top of all that, there's plenty of amphitheater seating in the courtyard, making the house a popular site for weddings and other events.
Bedrooms: 5
Bathrooms : 6
Sleeping: 12
For more California travel inspiration, check out these other articles: