10 Breathtaking Beach Houses in Half Moon Bay
The Bay Area has no shortage of interesting sights, attractive towns and great vacation spots. San Francisco proper is only part of a bigger and brighter picture. A lesser-known spot much loved by connoisseurs is Half Moon Bay, a small stretch of coast with sandy beaches and beautiful cliffs.
Although there is some debate as to whether Half Moon Bay is technically in the Bay Area, it is only half an hour from the San Francisco airport and easily accessible from the heart of the region. Well worth the trip.
A number of small towns dot the bay in Northern California, foremost Half Moon Bay itself, a town known for its amazing restaurants as well as its great beaches. Art is another big draw. The town has been popular with artists for decades (the aforementioned beaches and cliffs played a role in their arrival) and is now home to a host of exciting galleries. Activities abound.
From the famous big waves of Mavericks Beach at the north end of the bay to the golf courses at the south end, Half Moon Bay is full of wonderful places just waiting to be explored. There are miles of sandy shoreline to walk on and an extensive network of walking and cycling trails winding through cliffs and hills. There are a myriad of memories waiting to be created.
To help you find your dream beach house in Half Moon Bay, we've got you covered with a list of 10 great Vrbo vacation rentals. Read on, let your eyes dwell on the photos and discover your next destination.
Bold contemporary house in a picturesque village
Rent now$929/avg per night
Seemingly striking both inside and out, to say this house is the perfect backdrop for photos is to understate things. Located in Princeton-by-the-Sea (a fishing village at the northern end of Half Moon Bay), the house is next to the port of Pillar Point. Mavericks and El Granada beaches are both less than a mile away. The popular sandy beaches of Miramar are a short drive east while Half Moon Bay is around 15 minutes away by car.
The fantastic design of the house is complemented by the artwork and furnishings (many of which are works of art themselves). It has a seafront terrace with incredible views of the harbor and beyond, views also visible from most windows. The home features two king bedrooms, two foldout sofas, and most importantly, an abundance of style.
Bedrooms: 3
Bathrooms : 2
Sleeping: 6
Coastal Retreat By The Bay
Rent now$1,163/avg per night
Treat yourself and your dearest friends to a coastal getaway by staying at this resolutely high-end house at Half Moon Bay. The walk to Poplar Beach and Half Moon Bay State Beach is less than five minutes, but many will be tempted to walk further and explore the wide stretch of scenic coastline. Downtown is just as close and offers just as many opportunities for memorable experiences in the form of unparalleled dining.
The kitchen is the envy of any chef, just as the downstairs living room is the envy of any couch potato. There is a quaint outdoor area perfect for charcuterie and chardonnay, and the fitness center is located in a veranda with great views on three sides to inspire guests as they work out. Free parking is available for up to four cars.
Bedrooms: 5
Bathrooms : 4
Sleeping: 8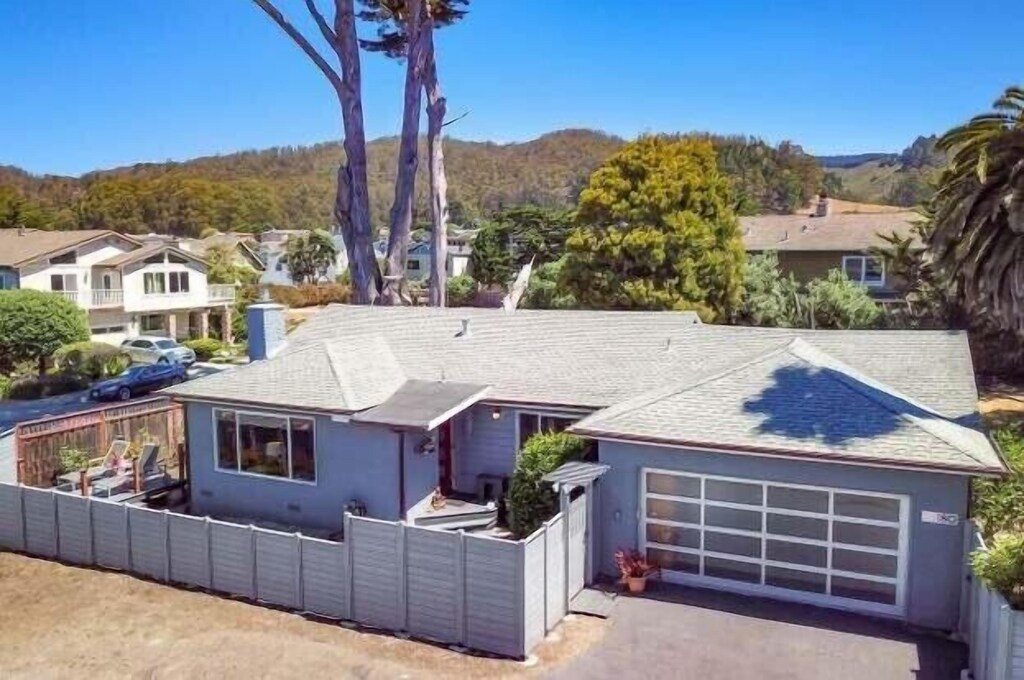 Three bedrooms, one block from the beach
Rent now$549/avg per night
If you appreciate the proximity to the beach, this Miramar housecan hardly be beaten. The walk to Miramar Beach only takes a minute or two, giving guests plenty of time for a sandy stroll to check out the half-dozen other beaches in the immediate vicinity.
You don't need to leave the cool waters behind at the end of the day as the Pacific Ocean can be seen from your home. If you need a break from it all, the house has an enclosed garden with a hot tub and sustainable local vegetation. For those who prefer a steam bath to a bath, the house also has a sauna. There is one king bedroom and two queens, making the home a great place for a getaway with friends.
Bedrooms: 3
Bathrooms : 2
Sleeping: 6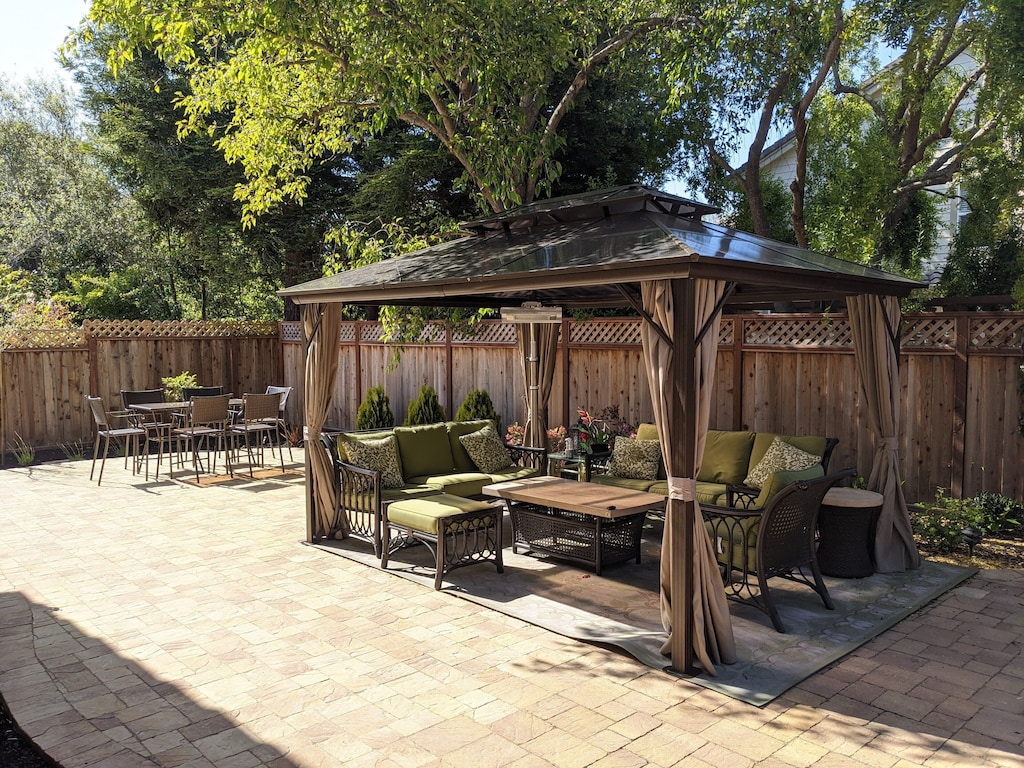 Executive House next to the Ritz
Rent now$970/avg per night
Enjoy all the amenities of one of the nation's finest Ritz Carlton hotels from the comfort of this great bay area home. There's a reason this Ritz was built where it is. The home sits on a gorgeous stretch of coastline with stunning views of two of the Bay Area's best golf courses. Walk to the beach or the Ritz fabulous restaurants in a few minutes.
The house has a private garden with a cabana, a table tennis table and a dining area. The interior is richly furnished and includes five bedrooms. With so much at your fingertips, the whole family is sure to have a splendid time.
Bedrooms: 5
Bathrooms : 3
Sleeping: ten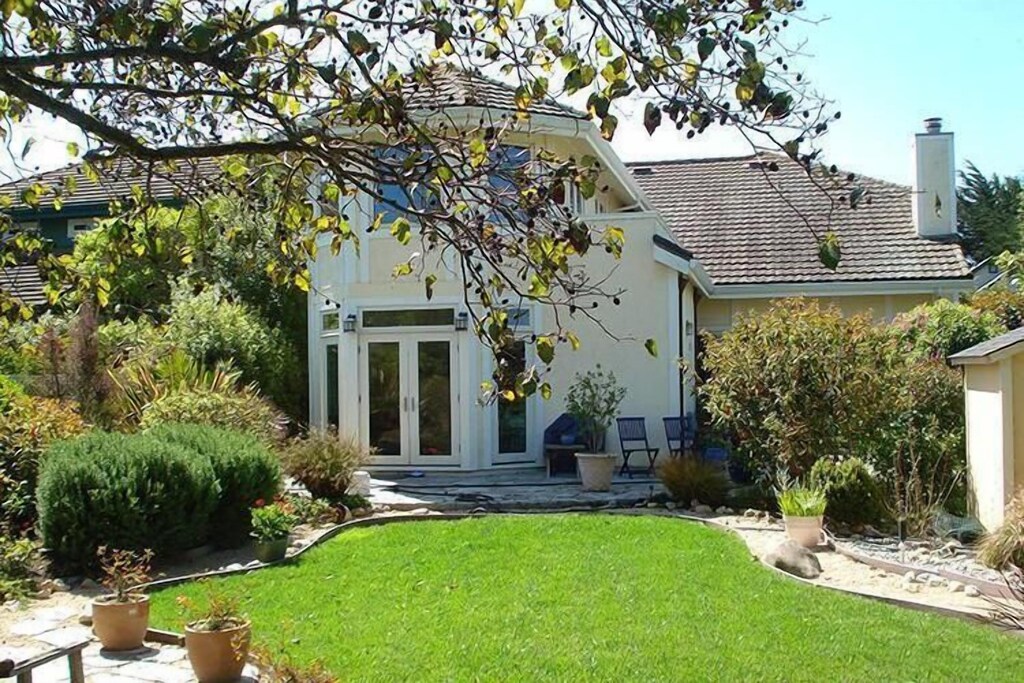 Coastal comfort in the heart of Half Moon Bay
Rent now$430/mo per night
Centrally located in Half Moon Bay (the town, not the body of water), this three bedroom house is the epitome of Californian comfort. It has a lush and spacious walled garden, a sauna and the perfect coastal suburban vibe, the kind of atmosphere that made millions seek a new life in Cali in the first place.
And yes, the master bedroom has a California king bed as well as two sets of closets. The other bedrooms have queens (there can only be one king, after all). This home offers guests easy access to fine dining downtown and more casual venues along the coast. Whether you're headed for the scenic hills or the sandy beaches, your destination is just steps away.
Bedrooms: 3
Bathrooms : 3
Sleeping: 9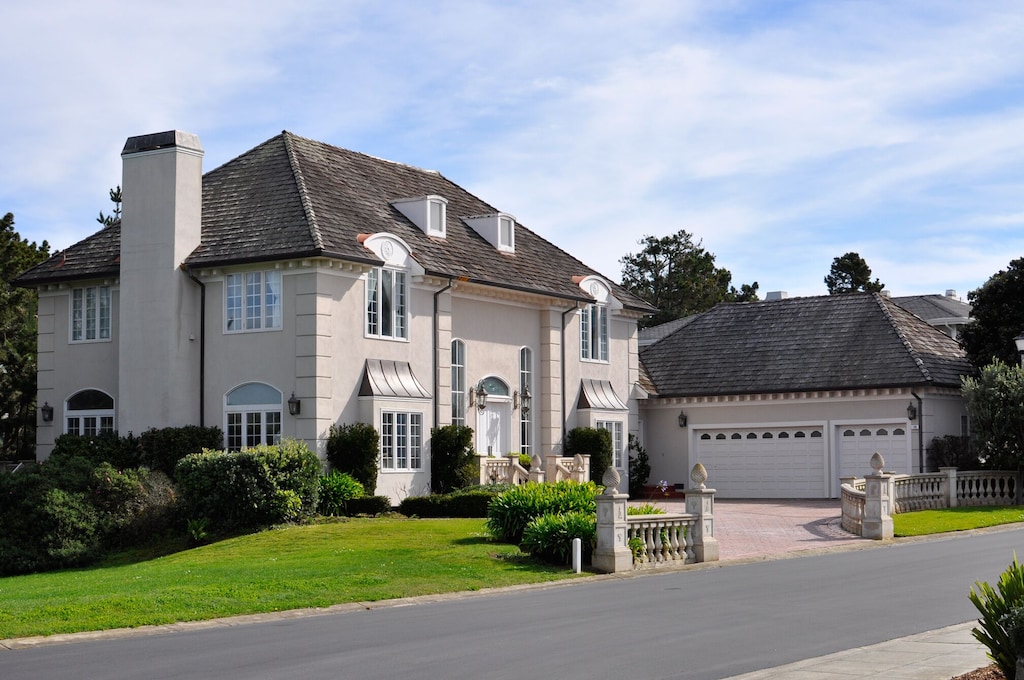 Grand Castle at Ocean Colony
Rent now$1,635/avg per night
Whether they are golfers or not, the guests of this large castle-style house will undoubtedly marvel at having the eighth hole of Half Moon Bay Golf Links right in their backyard. It is a splendid spectacle indeed, like those seen from every window. Cross the golf course for dinner or a drink at the Ritz Carlton, take the 10-minute trail to the beach, or stroll along one of the many scenic clifftop coastal paths.
Everything in this house is grandiose, from the imposing entrance hall to the living rooms. Each bedroom is spacious, showcasing the luxurious qualities of the beds themselves.
Bedrooms: 4
Bathrooms : 4
Sleeping: 8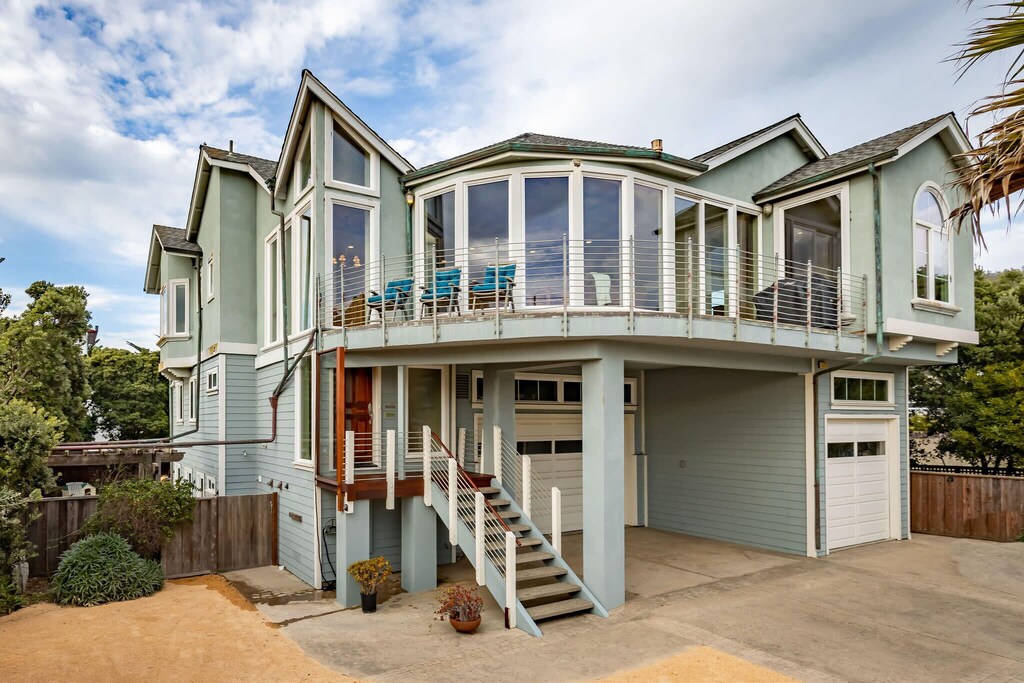 Miramar Ocean View House
Rent now$699/avg per night
Who wouldn't cover their house with windows when the ocean is right outside? The owners of this Half Moon Bay beach house did just that, plus added a number of other touches that really make the house shine. Enjoy the coastal views indoors from the leather sofas in the living room or outdoors from the wrap-around terrace.
The kitchen has beautiful wood cabinetry complemented by new appliances and captivating stones. Staying minutes from the beach is a proven recipe for fun the whole family will enjoy. Don't forget to dine at the iconic Sam's Chowder House nearby!
Bedrooms: 4
Bathrooms : 2
Sleeping: 9
Live Big in a Tiny Pet-Friendly Home
Rent now$210/mo per night
Comfortable is too often used as a euphemism for little. The truth is, there's nothing wrong with a small space if it's done right. This small chalet 500 meters from the beach is further proof that small can be beautiful. It is ideal for a romantic couple's getaway or a group of close friends (the second of the queen beds is in an attic area above the first).
A tiny house with high ceilings, the beach house has a kitchenette with two burners, a toaster oven and everything you need for your morning cup of coffee. There is also an outdoor area with a wooden deck, chairs and a swinging bench. It is located in the town of Half Moon Bay, which allows guests to walk to the best restaurants in the area.
Bedrooms: 1
Bathrooms : 1
Sleeping: 4
Two-Story Ocean Colony House
Rent now$1,400/avg per night
Another great option at the Ocean Colony (that spectacular neighborhood between the golf courses and next to the Ritz Carlton) is this single family vacation home. Guests will brag about the view from their rooms and how close the house is to the beach (a 5 minute walk).
Sit down to a meal in the formal dining room, gaze out the window and find out why the place is sometimes called the Scotland of California.
Bedrooms: 5
Bathrooms : 4
Sleeping: ten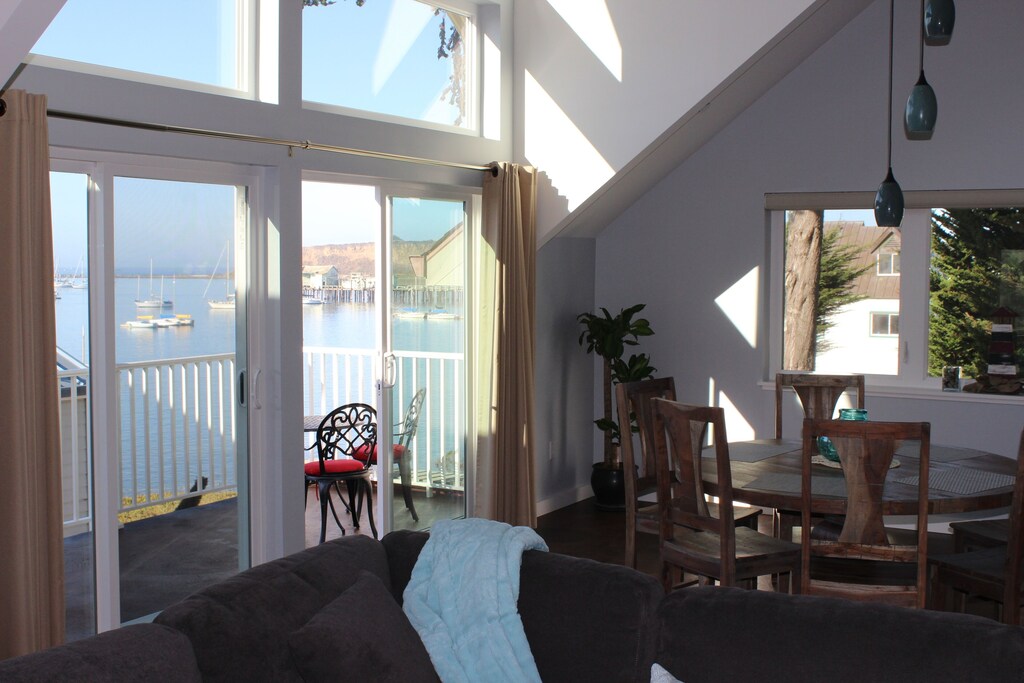 Captain's Quarters
Rent now$467/mo per night
Right next to Princeton-by-the-Sea Harbor, Captain's Quarters corresponds to its nautical name. Whether you're gearing up to hit the wild waves of Mavericks Beach, want to partake in Princeton's heritage by taking to the sea and signing up for a fishing trip, or just want to enjoy Half Moon Bay's many beaches, this the rental house is an excellent base for a family.
High ceilings welcome guests and recall the usually sunny skies outside. There is a master bedroom upstairs and three twin beds set up in a wrap-around loft.
Bedrooms: 1
Bathrooms : 2
Sleeping: 6
For even more things to do in Half Moon Bay, check out: